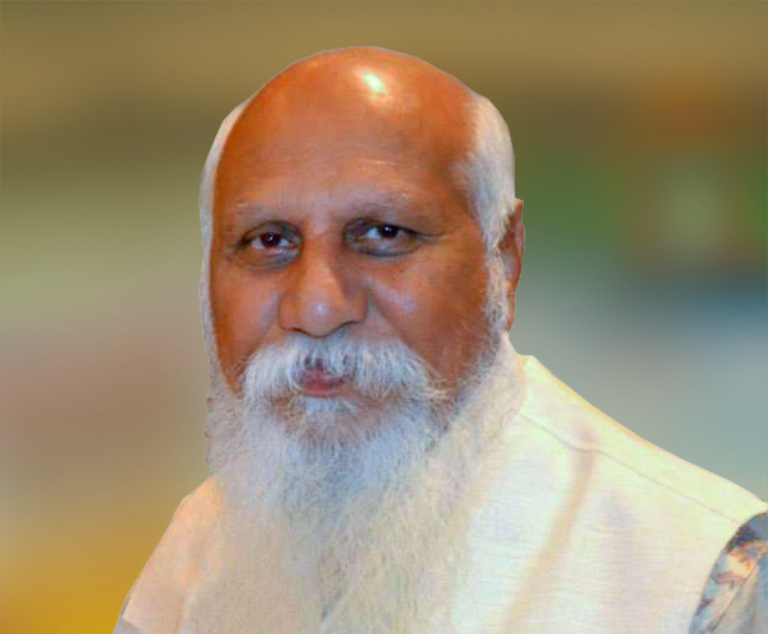 Brahmarshi Pitamaha Patriji
Founder of PSSMovement
"Subhash" was born in the year 1947 at Shakkarnagar, Bodhan, Nizamabad dist. (Andhra Pradesh) to Patri Venkata Ramana Rao and Savitri Devi. "Subhash" became enlightened in the year 1979, after some serious experiments with meditation. Since then, Patriji began striving hard to awaken and enlighten each and every individual. In the year 1997, in the temple town of Tirupati, Andhra Pradesh, all the pyramid masters gathered and conferred the title of 'Brahmarshi' on Patriji.
Patriji's Parents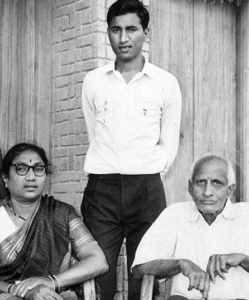 Patriji was born in Shakkarnagar, Bodhan, Nizamabad district of current Telangana state.. on 11th November 1947 to P.V. Ramana Rao and Savitri Devi.
Patriji's father P.V. Ramana Rao was born in 'Gudivada', in 1911, did B.Sc degree in Nizam's College, Hyderabad and further went to do postgraduate studies in " Sugar Technology " in North India, Kanpur. P.V. Ramana Rao started his career in " Vuyyuru  (1936) " at K.C.P Sugar Factory.. and worked there for two years. Then he went on to work in " Nizam Sugar Factory Ltd." , at " Shakkarnagar ", in the year 1938. Year 1965, he got his early retirement. That is when Patriji's family left Bodhan and shifted to Warangal as Patriji's elder brother Dr. P.K. Venu Vinod, at that time, was working as a Lecturer in Regional Engineering College, Warangal.
P. V. Ramana Rao left his physical mortal body in the year 1993.. literally in Patriji's own hands.
Patriji's mother Savitri Devi was born in Guntur, in the year 1920 and was a very compassionate individual, a great lover of music, a great cook, a fluent speaker in Hindi, and a great meditator. Savitri Devi, as a baby of two, was sent to her elder brother's place in Allahabad. She grew up there, so knew Hindi very well. She was married at the age of sixteen. After a few years of happy married life, she had lot of suffering also, because of her husband's schizophrenia, who had to be put up in mental hospitals every now and then. Although she suffered a lot, she did carry the whole family beautifully, in spite of all the trials and tribulations.She was a great support in Patriji's both material and spiritual efforts until she left her physical body in the year 2006.
Patriji's father was excellent in academic studies. So, all the children became hard working at academic studies. However, the best of them has been Patriji's elder brother, Dr. P.K. Venu Vinod, who did his Ph.D. in Mechanical Engineering from Manchester during the years 1970-74. Patriji's sister, Dr. Sudha, did M.Sc. in Organic Chemistry and almost completed her Ph.D and, then, as a mother of two children, she completed M.B.B.S, from Bengaluru. Patriji's brother younger by two years. " Aravind " left his physical body in 1964, in Mumbai, due to Leukaemia.
Patriji's parents built a house named "Aravind" in Amberpet, Hyderabad., year 1969. The home where Patriji and his sister Dr. Sudha were born, in Shakkarnagar, was owned up by Dr. Sudha Koduri some years earlier and that house is now " Savitri Devi Pyramid Meditation Centre ".
Childhood / Adult Education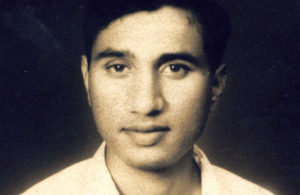 Patriji's childhood was spent at " Shakkarnagar ".. growing up with all the whole neighbor-hoodfamilies as one common family. On one side of his house is a Masjid.. even today it exists exactly as it was.  A few furlongs away is the serene, sprawling, peaceful Rama Temple. " The Nizam Sugar Factory " is now dilapidated.. but, in those days, it was the biggest in Asia and very, very active.
Patriji's primary schooling was done in Shakkarnagar where he studied up to 5th standard and then " Middle School " up to 9th standard in " Bodhan Govt. High School. " Later, Patriji got shifted to Secunderabad, where he attended his High School – at Mahbub College High School (1960-1963). He passed out of his 12th class with a first class in 1963. Year 1966, he finished his B.Sc. from Secunderabad Arts and Science College. Later, in 1966, Patriji joined " Arts College, O.U. Main Campus " where for six months, he studied M.A. English literature and then joined Agriculture College " Andhra Pradesh – Agr. University " – at Rajendranagar, Hyderabad and completed B.Sc.(Ag) degree in the year 1969.
Year 1970, Patriji joined The Income Tax Department as an " Inspector (at the age of 22) ".. He worked in the Department for ten months.End of year 1970, he resigned to his job and returned to Hyderabad, to pursue M.Sc.(Ag) studies in Andhra Pradesh Agriculture University.
During the years 1970 to 1974, Patriji completed M.Sc.(Ag.) with specialization in " Soil Science ".
During the years 1969 to 1973, Patriji appeared for All India Level Competitive examinations. During all these years, he would partly do Income Tax Job, study M.Sc.(Ag) in bits and spurts.. but would concentrate mostly on competitive exams and used to visit all the Libraries in Hyderabad.. and " read and read and read ".
Flute Music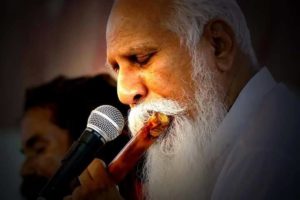 In his childhood, Patriji's household had a harmonium and a tabla and everyone in the family used to practice harmonium. " Shiv Ram Guruji ", from Bodhan, used to come in to the house in and would teach basic Hindustani Music and simple Bhajans. Patriji also learnt a little Tabla. Year 1960, all the children moved to Secunderabad for higher studies. And, in 1963, after Patriji's high school 12th examinations, Patriji's brother decided that Patriji should go to " Shri T.S. Chandrasekharan " and should learn CLASSICAL CARNATIC FLUTE.
Patriji's Flute GURUJI, Master Chandrasekharan Garu has been a disciple of the legendary T. R. Mahalingam. April 1963, Patriji's Guruji gave him a Flute to handle. Patriji's brother Venu Vinod was six years senior to Patriji in Flute. Patriji and his brother used to play Flute together.
Marriage / Family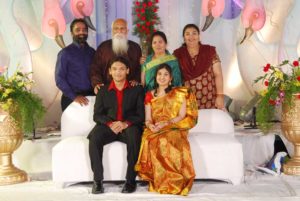 Patriji got married to Swarnamala Siriguri in the year 1974 on the day of 26th May in Yadagiri Gutta near Hyderabad. "Swarnamala Patri" was born in Bidar in Karnataka state.. to parents Shri S.L. Narayan Rao and Smt. Rukmini Bai. Swarnamala is also the youngest sister of " Mrudula ", who married Patriji's brother Dr. P.K.Venu Vinod in the year 1969. Swarnamala Patri, has been a great support to Patriji throughout his spiritual journey., and she herself is a great Yogin, with deep enlightenment.
Patriji is a proud father of two daughters. " Parineeta " and " Parimala "..  born in the years 1978 and 1982 respectively. Both of them are great meditators who have experienced wonderful things in their respective meditations. " Parineeta " got married on 31st December 1999 to Srinivas Reddy.. who is a very great Spiritual Master." Srinivas " has deep spiritual insights into life, and has tremendous wisdom-knowledge. Second daughter "Parimala" got married to Mihir Sanghvi on 19th December 2010 and is a Spiritual Empowerment Leader, an Energy worker based out of USA. More details at www.cosmicabundancenow.com
Dr. Sripada Pinakapani Garu, Padmabhushan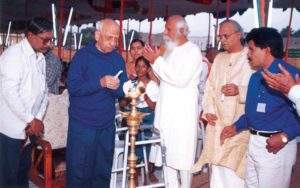 Year 1975, Patriji joined Coromandel Fertilizers Ltd, as an Assistant Sales Promotion Officer and got posted in Kurnool.
The moment he was posted in Kurnool, he was very excited, as he could see the great doyen of Carnatic Music, Dr. Pinakapani Garu. Patriji went to see him on June 15th, Year 1975.
Sripada Pinakapani Garu immediately took Patriji under his wings and taught him many intricate technicalities in music.. for full three years from 1975 to 1978.
Patriji learnt many Keertans, and could apply Pinakapani style in his Flute. Patriji also cultivated his " vocal music " because of the two masters Chandrasekharan and Sripada.
Cricket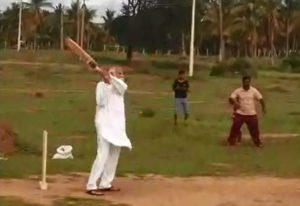 Since childhood, Patriji was quite fond of the game of cricket. He would collect a few people of his age and form a team and play matches every now and then. It all got started in Shakkarnagar. Patriji considers himself a good batsman, a bowler and a wicket keeper.
When he was working with " Coromandel Fertilizers   Ltd. "  also, after year 1975, they formed a team and played. He was the organizer always. ' Cricket ' is his great passion even now. Patriji intensely watches all major cricket events in TV. Patriji says "Cricket enables the players to develop excellent Group Consciousness".
Enlightenment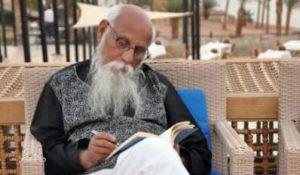 " Subhash Patri " became Enlightened in the Year 1979 after some serious experiments with "Anapanasati Meditation", with the help of his friend and colleague Shri S. Ramachanna Reddy.. who himself learnt meditation in the years 1976/77.
Since 1979, Patriji began striving hard to awaken and enlighten each and every individual. Further, in the following decades, Patriji read more than 50,000 books on Enlightenment, Spirituality and Science of Meditation.. written by more than 10,000 Old Age and New Age GURUS / Masters from all over the world.
Guru - Sadananda Yogi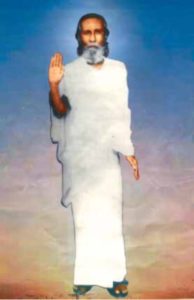 " Sadananda Yogi " was born in Arabia, stayed in Himalayas and toured all of India, finally came to Kurnool in the Year 1975.. the same year when Patriji also went to Kurnool as he was posted there when he joined Coromandel Fertilizers Ltd.
" Sadananda Yogi ", a tall man, not very old looking was living in a small lodge, " Raghavendra Lodge ", in a very small room 6' X 12'  in Kurnool Town, when Patriji along with other two masters Ramachenna Reddy and Venkataratnam, visited him for the first time on January 1st, year 1981. Swamiji looked at them, and after a while, spoke : " You will obtain nothing but BrahmaJnana here. " The students told him : "Swamiji ! We want only that." Sadananda Yogi was satisfied with the answer and went on reciting many wonderful spiritual things in Arabic and Telugu. The ardent students were mesmerized. After about 15 to 20 minutes, Sadananda Yogi told, " Come tomorrow morning. I will initiate you into meditation ". That's how Patriji met " Sadananda Yogi ", he also called him " Kurnool Swamiji ".
Patriji would be in Kurnool every month for about 7 to 8 days only. And in those few days, he would spend much time every day with " Swamiji ". Patriji would bring cigarettes / snacks / tea / lunch to him. Sometimes, when Patriji was in Camp, and Swarnamala Patri would arrange to send lunch.
From the time of January 1st year 1981 to year 1983 May 22nd, this was Patriji's routine in Kurnool. Patriji used to keep listening to him, to his experiences from his long life. " Swamiji " never moved out of his old Lodge. " Kurnool Swamiji " voluntarily left his body on 22nd May 1983 in the presence of Patriji and Dr. Sripada Pinakapani.
Kurnool Spiritual Society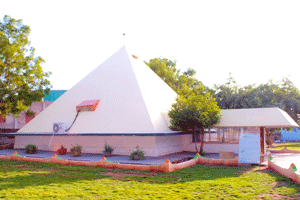 Patriji.. along with spiritual friends especially B.V. Reddy, Shri N.G. Showry, Paul Vijay Kumar etc.. established " The Kurnool Spiritual Society " during the Year 1990 in Kurnool Town.
The sole mission of the society was to create intense awareness amongst all individuals about the science of anapanasati meditation and its primary role in providing physical, mental and intellectual health and well-being to all.
Year 1991, " Buddha Pyramid Meditation Center " was established with the help of Shri B.V. Reddy Garu.. a great meditator-industrialist of Kurnool Town.
Pyramid Spiritual Societies Movement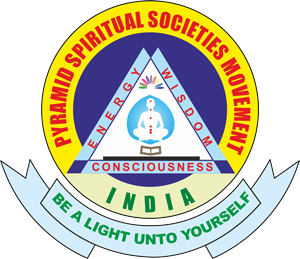 Patriji resigned to his job, in the Coromandel Fertilisers Ltd. in the Year 1992.. and since then took to uninterrupted service to the whole of mankind. Patriji's dedicated efforts, since the Year 1992, have resulted in hundreds of "Pyramid Spiritual Societies" being established throughout India.
Patriji has authored over sixty books, audio and video cassettes and CDs, mostly in Telugu language on various New Age spiritual science topics. Under Patriji's guidance, a vast amount of spiritual science literature in various languages has been created by way of magazines, books, audios and videos. And, books authored by great spiritual masters from the rest of the world have also been translated into Telugu, Kannada, Hindi, Tamil etc.
Patriji travels extensively to every nook and corner of the country of India including remote villages throughout the year and gives meditational classes to individuals of all ages, education and strata. Till date, Patriji has conducted thousands of workshops on anapanasati meditation, vegetarianism, pyramid energy and new age spiritual science etc.
Expansion of PSSM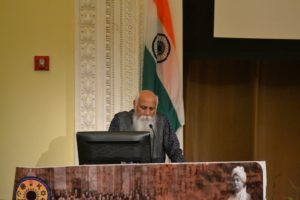 Patriji established the first Pyramid in Kurnool called " Buddha Pyramid Meditation Centre " in the year 1991.. and in the year 1996, a second pyramid was built in Uravakonda, in Anantapur Dist., with the help of Shri Uravakonda Venkatesh Garu. Thus, " pyramid meditation ".. for the first time.. was established by Patriji. Meditation when done inside a pyramid becomes thrice more powerful.
During the years 1996 to 2000, several "Pyramid Spiritual Societies" were established throughout the state of Andhra Pradesh in particular and the neighboring states in general. Thus the science of anapanasati meditation started reaching many places in Andhra Pradesh which included Anantapur, Guntakal, Proddutur, Dharmavaram, Kadiri, Tirupati, Hindupur, Madanapalli, Peeleru, Chittoor, Tenali, SriKalahasti, Nellore.
During the same years, anapansati meditation  also reached other places of Andhra Pradesh which included Vizag, Vijayawada, Hyderabad, Tadipatri, Kadapa, Mahbubnagar, Nandyala, Gudivada, Jaggayyapet, Ongole, Kavali, Vijayanagaram in A.P.. Bellary and Hospet and Bengaluru in Karnataka.. Sangli and Kolhapur, Mumbai in Maharashtra.. and Betul, Bhopal in M.P.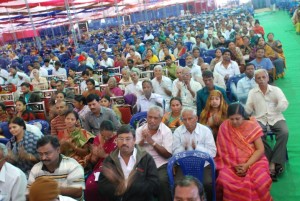 Year 1999, anapansati meditation went to other places which included, Rajahmundry, Kakinada, Amalapuram, Yanam, Eluru, Bhimavaram in A.P. and Siruguppa, Raipur, Delhi, Jaipur (Orissa), Kolkata, Nasik, Chennai in other states of India meditation sessions were also conducted in Singapore and Hong Kong
During the years 2000-2003, anapansati meditation reached Atmakur, Allagadda, Dhone, Nagarkurnool, Wanaparthy, Banaganapalli, Kodumur, Gudur, Naidupet in A.P. .. and Jalgaon, Jabalpur, Ahmadnagar, Malegaon, Dhuliya, Jaipur, Pune, Amaravathi, Erode, Indore, Aurangabad, Trivandrum, Goa, Thane, Faridabad, Chandigarh, Dehradun, Pantnagar, Kasipur, Sholapur.. in the Rest of India.
In year 2004, Patriji gave meditation sessions in Jammu, Darjeeling, Gangtok, Jalandhar, Meerut, Munger, Roorkee in India and Thimpu (Bhutan).. then two months in U.S.A.. In the year 2005, meditation sessions with 40 pyramid masters was held in Sri Lanka, followed by meditation classes in Australia, New Zealand and Malaysia.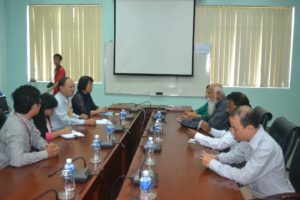 Science of Anapanasati Meditation reached and Andaman in India; Australia in 2006; United Kingdom in 2008; Egypt, New Zealand, Dubai in 2009; Sri Lanka, Singapore, Malaysia, Egypt, Cambodia, Thailand in 2010; New Zealand – 2011; Croatia in 2012 ; South Africa, Mauritius in 2013 ; Italy, Switzerland (Obwalden); Spain (Madrid,  Grenada, Barcelona); South Korea in 2014, Malaysia, Egypt (Cairo, Dahab), Australia (Perth, Melbourne), Dubai (UAE), USA (Baltimore, Atlanta, Minneapolis, Chicago, Boston, New York, Indianapolis, San Francisco, San Diego, Santa Fe) in the year 2015.
Patriji has been continuously teaching in Vietnam (years 2011, 2012, 2013, 2014, 2015). In the year 2016, Patriji toured extensively in Canada / USA / Vietnam / Malaysia / Egypt.
Good Karma & Other Awards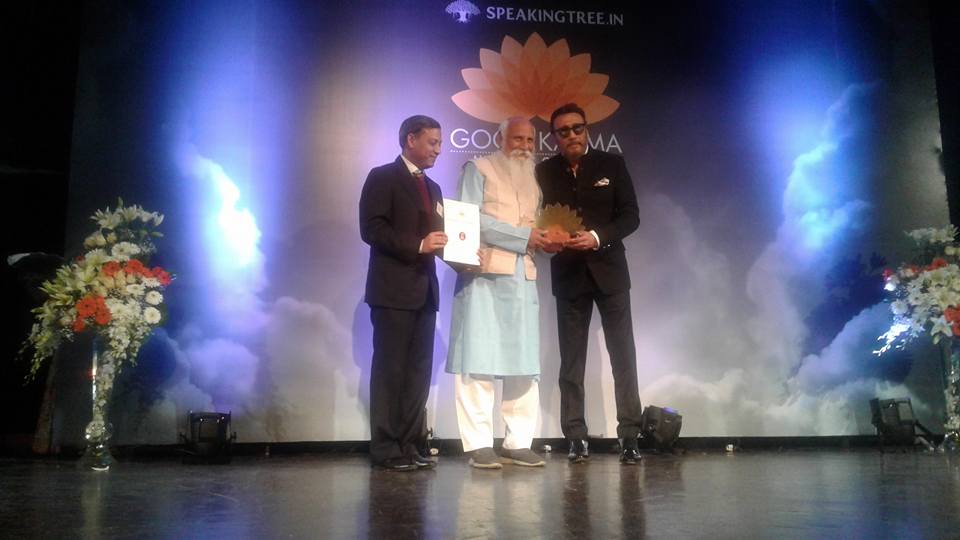 Brahmarshi Patriji was awarded the 'Good Karma Award' by Times of India publication, "Speaking Tree" for outstanding work in the field of 'spirituality and wellbeing' for promoting 'Anapansati Meditation & harnessing Pyramid Power' in January 2017.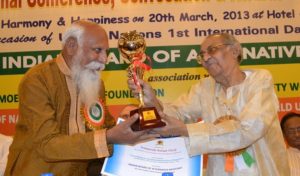 Patriji has been honored by a " Life-Time Achievement Award " at the National Symposium on Science of Holistic Living and its Global Application, organized by AROGYADHAM at Mahatma Gandhi Institute of Medical Sciences, Sevagram, WARDHA (Maharashtra), during the Year 2006.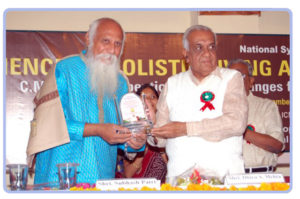 Patriji has been honored by a " Dhyan Visharad Award " by Indian Board of Alternative Medicines, Kolkata, at the 21st International Conference held in Kolkata, during the month of March, Year 2013.
Pyramid Valley International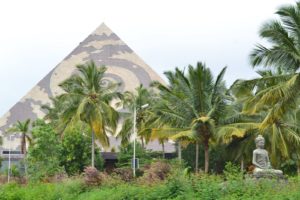 International Headquarters of PSSM is located at  " Kebbedoddi " village, Harohalli, state of Karnataka.. where a mega
" Maitreya Buddha Pyramid " exists. In the Pyramid Valley premises, " Global Congresses of Spiritual Scientists " every year get organized wherein spiritual scientists from all over the globe participate.
Personal Data, Education, Job - Timeline
Name

Subhash Patri

Birth Date

11-11-1947

Parents

Smt Savitri Devi, Sri Patri Venkata Ramanarao

Primary School

Govt. Grils School, Shakkarnagar (standard 1 to standard 5)

Middle School

Govt. High School, Bodhan (standard 6 to standard 9)

1960-62

Standard 10 to standard 12 in Mahbub College High School, Secunderabad

1963

Studied two volumes of Indian Philosophy written by
Dr. S. Radhakrishnan. 

Began learning Flute from T.S Chandrasekharan

1963-65

B.Sc., Arts and Science College, Secunderabad

1964

Death of younger brother, first shock in the family

1966-70

B.Sc. (Ag), APAU, Rajendranagar, Hyderabad

1969-73

Read several spiritual books … while preparing for IAS etc., civil examinations

1970

Worked as Income Tax Inspector, Tenali, for ten months

1971-73

Writing Competitive Exams IAS, IPS, ..etc.. and M.Sc (Agri) studies

1974

Marriage with Swarnamala and giving music performances

1975

Joined as Asst. Sales Promotion Officer in Coromandel Fertilisers in Kurnool

1975-78

Learning music from Padmabushan Dr. Sripada Pinakapani

1977-79

Spiritual friendship with colleague from EID Parry, Ramachenna Reddy

1978

Daughter Parineeta was born

1979, October

Walking-out of ' Subhash Patri ' … Walking-in of a Perfect Master during an accident

1979, December

Enlightened by reading the book " You Forever " by T. Lobsang Rampa

1979-83

Promotion as Sales Promotion Officer in Coromandel Fertilisers

1980

Started teaching Spiritual Science to friends in Kurnool Town

1981, January first

Meeting with Sadananda Yogi in Kurnool Town

1981-82

Continued association with Sadananda Yogi and reading spiritual books

1982

Daughter Parimala was born

1983

Sadananda Yogi vacates the physical body – transferred to Secunderabad

1984

Worked in Secunderabad Head Office as Telangana Districts Incharge

1985

Swarnamala Patri starts meditation and gets enlightenment

1985-1989

Worked in Secunderabad Head Office as Senior Agronomist

1990-91

Worked in Kurnool as Asst. Regional Marketing Officer

1992

Resigned the job, started teaching meditation full time.
Start teaching in Anantapur Town

1993

Father Sri Ramanarao vacates the physical body

2006

Mother Smt. Savitri Devi vacates the physical body

2007

Shashti Poorthi celebrations in Tirupati Town
Beginning and Growth of Pyramid Spiritual Societies Movement - Timeline
1980-83

First Group in Kurnool = Janardhan Rao, Ramachenna Reddy, Venkataratnam, Suryamohan

1984

First Group in Hyderabad = Dwarakanath, Chander, Swarnamala Patri, Gnaneswar

1985-86

Expansion of Group in Hyderabad = Srinivasarao, Badarinarayan, N.J. Rao,
R.V. Rammurthy, Y.J. Sharma

1990, December

Kurnool Spiritual Society registered

1991

Construction of Buddha Pyramid Dhyana Kendram, Kurnool

1992

Anantapur Group

1993

Uravakonda, Guntakal, Proddutur Groups

1994

Dharmavaram, Kadiri, Tirupati Groups

1995

Hindupur, Madanapalli, Peeleru, Chittoor, Tenali Groups

1996

Sri Kalahasti, Nellore Groups

1997

Groups in Bengaluru, Vizag, Vijayawada, Hyderabad, Bellary and Hospet in Karnataka, Sangli and Kolhapur in Maharashtra

1998

Mysore, Betul, Bhopal, Mumbai, Tadipatri, Kadapa, Mahbubnagar, Nandyala, Gudivada, Jaggayapet, Ongole, Kavali, Vijayanagaram, Srikakulam

1999

Chennai, Rajahmundry, Kakinada, Amalapuram, Yanam, Eluru, Bhimavaram, Siruguppa, Chellakere, Sindhanur, Raipur, Delhi, Jaipur (Orissa), Kolkata, Nasik;

2000

Meditation sessions in Atmakur, Allagadda, Dhone, Nagarkurnool, Wanaparthi, Banaganapalli, Kodumur, Gudur, Naidupet, Jalgaon, Jabalpur, Ahmadnagar, Malegaon, Dhulia, Jaipur (Rajasthan)

2001

Visit to Manasarovar, Pune, Amaravati, Kathmandu (Nepal) Erode

2002

Visit to Manasarovar, Indore, Aurangabad, Trivandrum, Goa, Thane, Faridabad, Chandigarh, Dehradun, Pantnagar, Kasipur, Sholapur

2004

Jalandhar, Meerut, Roorkee; two months of meditation sessions in U.S.A

2005

Seven days of meditation sessions with 40 pyramid masters in Sri Lanka; Meditation classes in Australia, New Zealand and Malaysia; Jammu, Thimpu (Bhutun), Munger (Bihar), Darjeeling, Gangtok (Sikkim)

2006

Australia

2008

Andaman, United Kingdom

2009

Egypt, New Zealand, Dubai

2010

Sri Lanka, Singapore, Malaysia, Egypt, Cambodia, Thailand

2011

New Zealand, Dubai, Singapore, Vietnam, Egypt

2012

Croatia, Egypt, Vietnam, New Zealand, Singapore, Australia and 40 days of meditation sessions in U.S.A.

2013

Egypt, South Africa, Mauritius, Dubai

2014

Egypt, Cairo, Dubai, Italy(Rome, Padova, Pisa, Turin), Switzerland (Obwalden), France(Paris), Spain (Madrid, Barcelona), Grenada, South Korea, Malaysia, Vietnam

2015 & 16

Andaman & Nicobar, Malaysia, Egypt (Cairo, Dahab), Australia (Perth, Melbourne, Dubai, USA (Baltimore, Atlanta, Minneapolis, Chicago, Boston, New York, Indianapolis, San Francisco, San Diego, Santa Fe), Malaysia, Bali